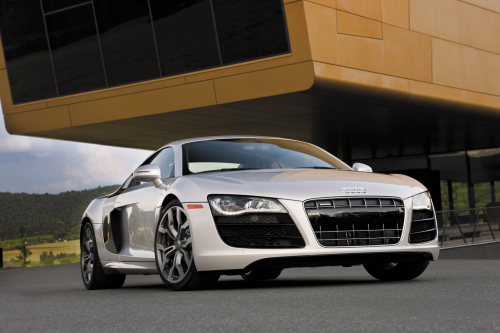 On July 23, 2009,
Audi launched the V10 era
of the acclaimed R8 sports car by delivering the first two 2010 Audi R8 5.2 FSI quattro models in the U.S. to two winning bidders from the 2009 Boca Raton Concours d' Elegance charity auction.
The two vehicles were auctioned off for charity and became the highest price a pair of Audis raked in at auction in the U.S. before their official sales release. The combined rake was $850,000 with the excitement brought by those wanting the cars.
the actual price of the autos was announced as well. The U.S. manufacturer's suggested retail price for the highly anticipated 2010 Audi R8 5.2 FSI quattro V10 sports car will start at an astounding $146,000, with shipments to authorized Audi R8 dealerships across the country beginning this week. Guess I'll have to cancel my appointment at my
orange nj dentist
and start saving up.